Diaphragms in pneumatically & hydraulically operated diaphragm pumps
Diaphragms are used in numerous applications, including valves, fittings and actuators. Their use in air-operated diaphragm pumps and hydraulically operated diaphragm pumps is very widespread due to their versatility.
The air-operated double diaphragm pump uses a simple pneumatic valve system in which the air pressure is changed from one diaphragm to the other. A horizontal rod, with a diaphragm coupled to each end, is moved from side to side by the oscillating force. The volume of both air chambers is thus alternately reduced and expanded by the movement of the diaphragms. The volume changes generate a negative or positive pressure in the chambers. Through the clever arrangement of non-return free-floating ball valves, a volume flow is induced by the pressure. In this way, the medium is conveyed and a return flow is prevented.
Due to their simple action, air-operated diaphragm pumps are ideal for pumping chemicals, oils and abrasive media in heavy-duty applications. Diaphragm pumps are also frequently used for dosing, and for pumping food and beverages.
The industries in which they are used are very diverse: chemicals, ceramics, paper manufacturing, printing, electronics, semiconductor manufacturing, water treatment, waste disposal, surface technology, power plants, refineries, as well as the textile industry.
Diaphragms are also used in hydraulically operated diaphragm pumps, which are popular due to their flexible properties and easy maintenance.
Garlock ONE-UP® diaphragms provide an optimal solution for diaphragm pumps of any industrial application. The Garlock ONE-UP® diaphragms have a specially developed PTFE coating on the media contact side. Compared to conventional PTFE diaphragms, Garlock ONE-UP®s have an increased abrasion resistance, and a higher bending fatigue life. They are therefore more durable and achieve considerably extended operating times.
Garlock offers the GYLON ONE-UP® for use in the food and pharmaceutical segments. The FDA-compliant GYLON ONE-UP® diaphragm has the same exceptional chemical resistance and durability as the industrial ONE-UP® version. The GYLON ONE-UP® is not as abrasion resistant as the Garlock ONE-UP® for industrial applications, but it exceeds the service life of conventional PTFE diaphragms.
GYLON® Style 3522 PTFE diaphragm material, produced exclusively by Garlock, has a long proven track record. It is manufactured using a patented process that ensures optimum quality and uniformity, and offers the industry's longest service life. Typical applications for the GYLON® Style 3522 PTFE diaphragm include metering pumps, diverter valves, aseptic diaphragm valves, and double diaphragm pumps. Specifications include: FDA compliance to 21CFR177.1550, 3A Standard, USP Class VI Chapter 87 & 88, USP Part 31, 281 and 66.
You can find out more about the manufacture of our GYLON® material here:
YouTube: https://youtu.be/aMgV9kyrrYc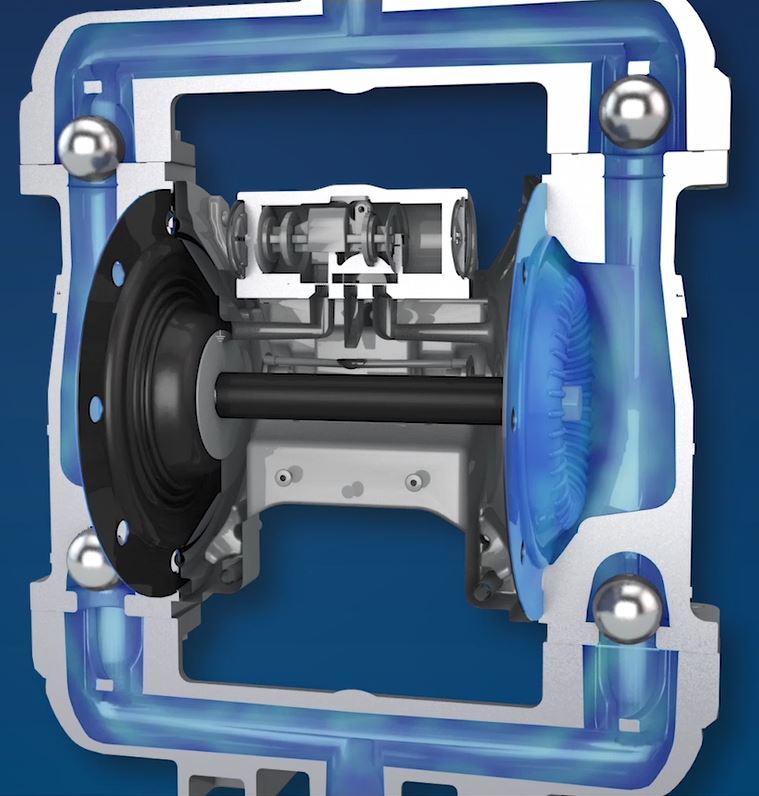 Graphic of an air-operated double diaphragm pump)
Garlock GmbH
Falkenweg 1
41468 Neuss
Germany
+49 2131 349-0
garlockgmbh @ garlock.com

© 2023 Garlock GmbH, Germany