Cleanability of seals
Hygiene is a question of attitude. Or is that different for your plant?
The pharmaceutical and food processing industries are urgently interested in limiting and avoiding all downtime caused by cleaning and maintenance procedures. Sterilization cycles are performed in the tightest possible time, with highly concentrated chemicals, high temperatures and increased flow rates
So this attitude towards hygiene is right.
Expected success, however, becomes a problem when the rubber seals fail. The cleverly saved time ends up being quintupled by unnecessary replacement intervals of rubber seals with a confusing variety of material qualities.
Wouldn't it be interesting if there were a material that could be reliably cleaned now and also had the potential to save time in the future?
Hygiene principles of the EHEDG (European Hygienic Engineering & Design Group) enjoy a high priority in the pharmaceutical and food processing industry. Garlock has therefore sent its proven GYLON® material into the race to subject it to a tough test in accordance with EHEDG Guideline 2.
A cleaning process is simulated in accordance with EHEDG guideline 2, during which the seals are subsequently examined with regard to residual microorganisms. The respective detection then takes place via a colour change of the culture medium from violet to yellow.
This works in such a way that as soon as acid-forming microorganisms are present, the PH indicator bromocresol purple causes this colour change. So if microorganisms are able to grow in the nutrient media used, the nutrient medium turns yellow in the detection procedure. The acid formation of the test organism during the growth phase (by-product of cell growth) causes the corresponding colour change (purple to yellow) of the culture medium.
In short – yellow is not a good sign here.
All material qualities that are typically used in process equipment were in the running. Who do you think won the race?
Let's take a look at the rankings below: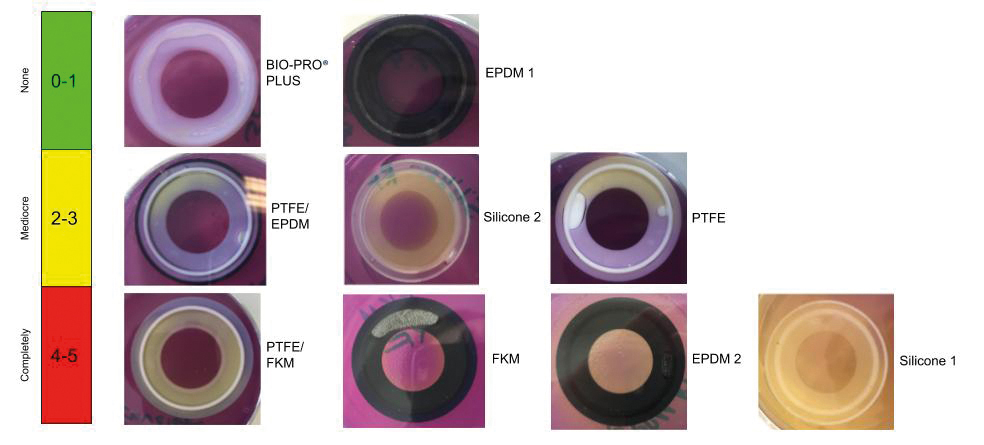 Top marks for the EPDM1 gasket and the GYLON BIO-PRO® PLUS. This is astonishing, considering that the EPDM2 gasket, which is made of the same material, is ranked lower than the other participants.
Interesting enough to take a closer look at the finish photo: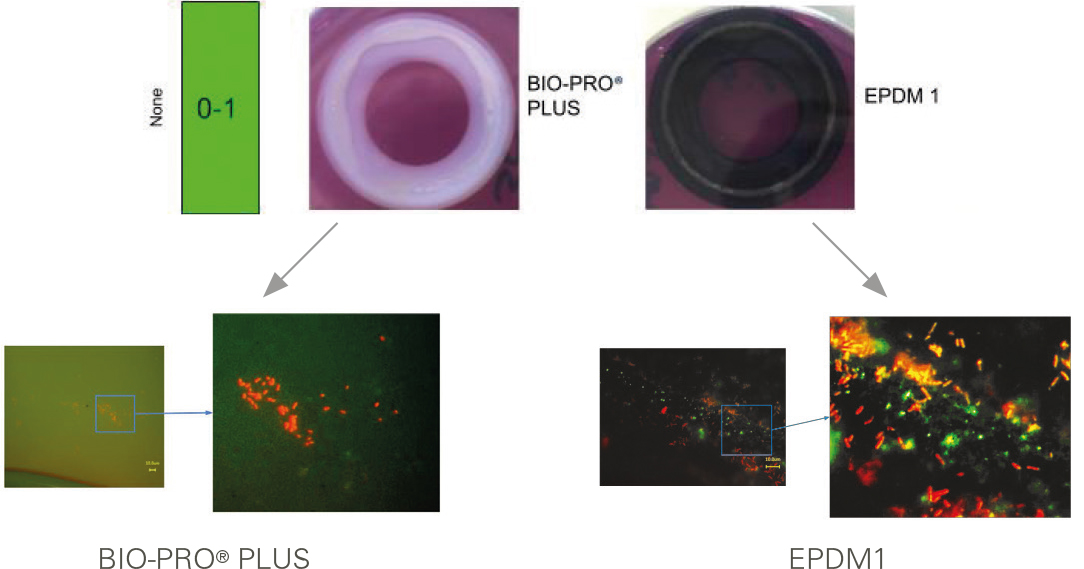 Images from the fluorescence microscope
The EPDM 1 gasket did not cause any yellowing during the tests, which according to EHEDG normally means that the gasket is free of contamination.
However, further examination using fluorescence microscopy showed that the EPDM1 gasket was completely contaminated. The conclusion is that the EPDM1 gasket under investigation has antimicrobial properties that caused the test procedure to fail and thus lead to a wrong, namely good, result.
Wouldn't you like to always finish in the top positions without being disqualified for the future in retrospect?
GYLON BIO-PRO® PLUS shows no yellowing in the tests and only negligible impurities in fluorescence microscopy. In addition, GYLON® Style 3522 repeatedly scored with exclusively good cleaning results.
Don't go for the wrong solution – go for GYLON BIO-PRO® PLUS.
Garlock GmbH
Falkenweg 1
41468 Neuss
Germany
+49 2131 349-0
garlockgmbh @ garlock.com

© 2023 Garlock GmbH, Germany