PTFE based high performance seal / Rotary Shaft Seals
The PS-SEAL® product line stands for reliable sealing of rotating shafts at high circumferential speed, high pressure and extreme temperatures. Abrasive media is sealed as well as aggressive media. Radial shaft seals typically do not perform well under these conditions as their seal lips are made of elastomeric materials. PS-SEALs are used in many different applications and can also be an alternative to mechanical seals and braided packings. The product line PS-SEAL® offers cost-effective and practical solutions to a wide range of applications. The portfolio of Garlock shaft seals offers standardized as well as special customized seals. The high performance seals PS-SEAL® work with a sealing lip made of GYLON® or other modified PTFEs. Garlock produces GYLON® in a process that has been specially developed.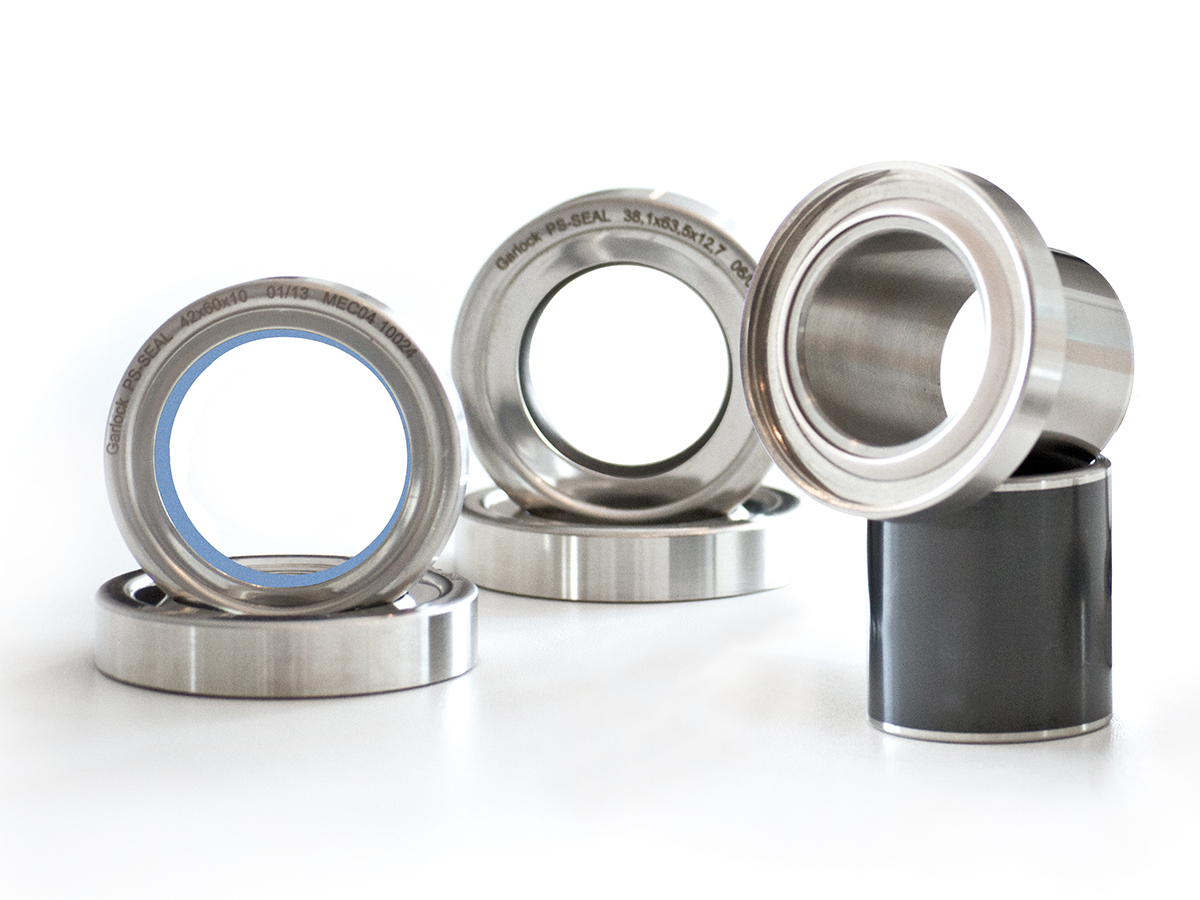 PS-SEAL® Standard is a Garlock shaft seal consisting of a stainless steel (1.4571) case, a GYLON® Black seal lip and a static sealing element made of FKM (maximum 10 bar, maximum 205°C, no FDA). 
PS-SEAL® Non-Standard are shaft seals in standard sizes with different configurations of their seal lips, different lip materials and different materials of their static sealing element. The PS-SEAL® Non-Standard offers an economic way of producing special configurations appropriate to your needs, as it is based on the standard version.
PS-SEAL® Special – due to the complex application of high performance seals, PS-SEAL® Standard and PS-SEAL® Non-Standard may not always provide the best solution for application-specific needs. That is why Garlock offers other sealing options with single and multiple lip assemblies. As far as practicable these seals are standardized to supply our customers with cost-efficient special solutions. We recommend consulting our specialists for the usage of these PS-SEAL® configuration options. PS-SEAL® Special is available in many different lip and housing materials.
Features & Benefits
Useab​le under high pressure and in extreme vacuum
Very suitable for high circumferential speed
Excellent chemical resistance
Useable in food and pharma applications (FDA)
EN 1935/2004 certificate possible
SIP/CIP compatible
Good to excellent dry running capability
Wear resistant and low friction
Specifications
Seal case
The standard material for the PS-SEAL® seal case is stainless steel 1.4571. Other materials can be supplied on request.
Operating Pressure
PS-SEAL® Standard max. 10 bar
PS-SEAL® Non-Standard max. 25 bar (depending on version)
PS-SEAL® Special max. 25 bar (depending on version)
PS-SEAL® Lip max. 25 bar (depending on version)
PS-ProSet® max. 25 bar (depending on version)
For maximum pressure applications please check the p x v – value. Garlock recommends an axial fixation of the PS-SEAL® when it is used in applications under high pressure.
Temperature Range
The PS-SEAL® lip material can handle temperatures between –90 °C and +260 °C. Please note, that there is a difference between the temperature on the seal and the process-temperature due to the friction which releases additional energy/heat.
Material
GYLON® is being used as lip seal material of PS-SEAL® and significantly responsible for its successful operation. We offer highly diverse seal options and combinations of materials to cope with the very different requirements of many diverse industrial branches. GYLON® is a modified PTFE and is used due to its high chemical resistance, its high temperature range and its low friction.
Counter Surface
As the counter surface has a major impact on the efficiency and life-time of our seals, its configuration needs also to be considered. Garlock can offer an appropriate package of seal and counter surface (protection sleeve) to provide an optimal and durable sealing solution. For an optimal interaction between sealing and abrasion the following surface characteristics should be complied with:
Surface Abrasiveness
Ra = 0,1 – 0,4 μm
Rz = 0,6 – 2,0 μm
Rmax = 4 μm
The running surface may not have a helical spiralling indentations as the arising conveying effect could cause leakage.
Surface Hardness
60 HRC
Under high stress (p x v – value) of more than 20 bar x m/s Garlock recommends an untwisted machined chromium oxide coating. Suitable coatings can be ordered from Garlock. Please consider a hard enough basic material when using micro-coatings.
Materials
Lip Material

Ingredients

Properties

GYLON® Black
graphite

standard material
perfectly suitable for lubricated applications

GYLON® White
barium sulfate

special material
FDA & EN1935 conformity
recommended for food, pharmaceutical and beverage industries
partially capable of dry running

GYLON® Blue
glass-microspheres

special material
FDA & EN1935 conformity
very flexible (high recovery capacity)
recommended for food, pharmaceutical and beverage industries
brilliant dry running characteristics

GYLON® Brown-White

Brown side:

Abrasive-resistant additives

White side:

Heat dissipating additives

special material
FDA & EN1935 conformity
very flexible (high recovery capacity)
recommended for food, pharmaceutical and beverage industries
suitable for abrasive media

F
econol

special material
FDA & EN1935 conformity
recommended for food, pharmaceutical and beverage industries
suitable for vacuum-applications
brilliant dry running characteristics

MS
molybdenum disulfide

suitable for abrasive media
Non-Standard Configurations
Reverse lip  |  Single lip with dust lip  |  Back to back  |  Tandem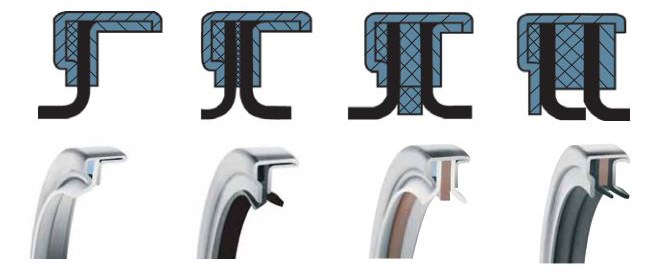 Garlock GmbH
Falkenweg 1
41468 Neuss
Germany
+49 2131 349-0
garlockgmbh @ garlock.com

© 2023 Garlock GmbH, Germany